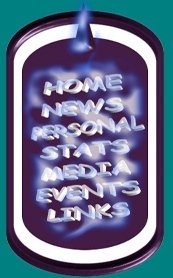 Position: Goaltender
Catches: Left
Height: 5'11"
Weight: 205 lbs.
Born: 3/28/71 in Sudbury, Ontario
Sweater Number: 1, 33
Acquired: Signed as a free agent on July 22, 1998.
Likes: Golf, carpentry, lasagna, movie "The Rock", and music by Matchbox 20
Favorite NHL Player: Mike Richter    
Favorite athlete: tennis player Gabriela Sabatini
1990-91: Sean played for Kingston of the OHL
June 1991: Drafted in the 9th round of the NHL entry draft by the Winnipeg Jets (team's 7th pick, 181st overall).
1991-92: Sean played for Fort Wayne of the IHL and Moncton of the AHL.
1992-94: Sean played for Moncton before going back to Fort Wayne.
1994-95: Sean played for Fort Wayne and the Canadian National team.
1995-96: Sean played for the South Carolina Stingrays of the ECHL, where he won 31 games.
1996-97: Sean played for the Pensacola Ice Pilots, winning 23 games as the team's MVP.
1997-98: Sean returned to Pensacola the following season to play one of his best years of hockey, once again taking team MVP honors, winning 29 games and leading the league in saves with 1783.
1998: Sean signs as a free agent with the San Jose Sharks, and is sent to the Sharks' top development affiliate, the Kentucky Thoroughblades. (Hopefully he's down there as the #3 man for the Sharks, but only the coaches know that secret ;o) )

Sean played two seasons for the Los Angeles Blades in the Roller Hockey International league (RHI: Lost in shootouts to the Rhinos every time I went to see him play, but who can blame him...the Rhinos are great! :o) ) and signed with the Sacramento River Rats over the summer of '97. Sean played in the 1997 IIHF championships for Team Canada along with former Ice Pilots Hugo Belanger and Glen Metropolit.