Name: Al Anthony Iafrate
Position: Defense
Shoots: Left
Height: 6'3"
Weight: 235 lbs
Born: 3/21/66 in Dearborn, Michigan
Drafted: 1984 by Toronto; 1st round, 4th overall
Sweater Number: 43
Al Iafrate is about to describe his medical history. He is about to use medical terms like "bone graft" and "meniscus" and "articular cartilage." The tread is decidedly worn on Iafrate's knees, the result of a half-dozen different surgeries.
When Iafrate was healthy, he was one of the best two-way defensemen in the league. He combined the undisputed hardest shot in the league with great speed and a 6-foot-3, 235-pound frame. That is a rare combination of talents, and he used it to score more than 20 goals in three of his first nine seasons.


Then he started to blow tires. He didn't play at all in 1994-95 and 1995-96 because of knee and back problems, and he played just 59 regular-season games the past two years with the San Jose Sharks.

Al is also one of the league's most interesting personalities. Iafrate is the Harley Davidson of the NHL. He was dubbed "The Wild Thing" during his days with the Washington Capitals, a nickname that Iafrate never quite understood. "I think it's just because I had a motorcycle or something," Iafrate said. "I think I'm pretty mellow."

He also may be the only NHL player who partly selected a number because a NASCAR driver used it. He wears No. 43. We all know who that is, don't we? "I like NASCAR, but I follow drag racing a little more than NASCAR," he said. "I have motorcycles, but I don't really ride them anymore since I've had back surgery."
With a 105 mph shot that might impress Richard Petty, Iafrate is undefeated at the hardest-shot competition at the NHL All-Star Game. "If you look at the fence at my house where I grew up, it's pretty bowed," the Detroit native said. "I just used to always like to shoot pucks. My sister would stand there when I'd shoot tennis balls at her. I think the combination of my size and speed approaching the puck when I hit it, that's part of it."
Iafrate was picked by Nashville in the recent expansion draft but became a free agent on July 1. The Hurricanes announced his signing July 14, one day after the Hurricanes signed center Ron Francis. For his career, Iafrate played 799 games and recorded 153 goals and 463 points. But Iafrate's 13-year career hampered by chronic knee injuries came to an end much sooner than the Hurricanes expected. At age 32, Al announced his retirement, but may try to make another comeback.
Whatever happens, we wish the best of luck to Iafrate and thank him for all that he has contributed to the Sharks.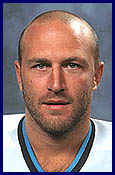 Career Stats
Year
Team
GP
G
A
PTS
PIM
+/-
Shots
PCT
Playoff year
GP
G
A
PTS
PIM
1984-85
TOR
68
5
16
21
51
-19
88
5.7
1984-85
-
-
-
-
-
1985-86
TOR
65
8
25
33
40
-10
94
8.5
1985-86
10
0
3
3
4
1986-87
TOR
80
9
21
30
55
-18
132
6.8
1986-87
13
1
3
4
11
1987-88
TOR
77
22
30
52
80
-21
169
13.0
1987-88
6
3
4
7
6
1988-89
TOR
65
13
20
33
72
3
105
12.4
1988-89
-
-
-
-
-
1989-90
TOR
75
21
42
63
135
-4
153
13.7
1989-90
-
-
-
-
-
1990-91
TOR/WASH
72
9
23
32
237
-16
106
8.5
1990-91
-
-
-
-
-
1991-92
WASH
78
17
34
51
180
1
151
11.3
1991-92
7
4
2
6
14
1992-93
WASH
81
25
41
66
169
15
289
8.7
1992-93
6
6
0
6
4
1993-94
WASH/BOS
79
15
43
58
163
16
299
5.0
1993-94
13
3
1
4
6
1994-95
Did not play
1995-96
Did not play
1996-97
SJ
38
6
9
15
91
-10
91
6.6
1996-97
-
-
-
-
-
1997-98
SJ
21
2
7
9
28
-1
37
5.4
1997-98
6
1
0
1
10
Totals
ALL
799
152
311
463
1301
-64
1714
8.9
ALL
71
19
16
35
77